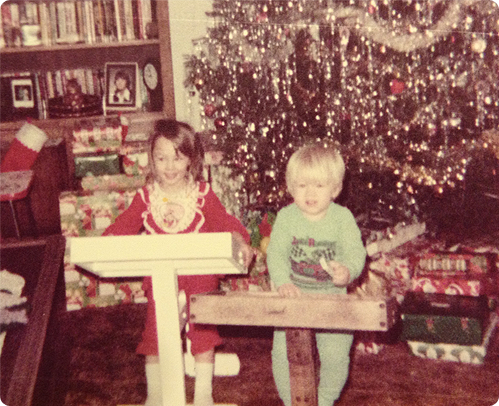 my brother Josh & I, circa 1985
I was five.
This was the year my dad decided to quit his job & go into business for himself as an electrician. Before this, he had worked at a hardware store since he graduated high school & a few months before I was born. He had gotten so good at giving people exactly what they needed for every electrical job that used their store to buy their supplies that they put him in charge of that portion of the company.
My dad knew he had a gift, an unlearned, self-taught gift of getting it. It was intuitive. He followed that, despite not having any schooling, him & his partner, also unschooled, wired houses all over our area. They were good at what they did, mix that with their kindness & good sense of humor– & word of mouth traveled fast.
Over the years my parents owned more than a few businesses. They DJed weddings every weekend when I was 8; I had an insanely huge music collection at my disposal. My dad repaired TVs & VCRs for awhile; I watched him help people. He's been the tech support for a small local internet company; I listened to him practicing patience. My mom's made wedding cakes, gourmet candy for events & holidays, has held jewelry parties selling pieces that she created & has crocheted up all kinds of goodness; I watched her being creative, beautiful & believing in her work.
They did all of this out of our home.
These are my roots & it explains so much about who I am today.
But back to that Christmas, the beginning of my parent's entrepreneurial journey…
I didn't know this until I was much older but we didn't have that much to spend that season.
The chalkboard desks my brother & I are sitting at in the photo were built by my dad's hands because of this.
I remember thinking how cool these desks were, just the right size for both of us, they were customized, I loved mine to pieces.
Out of all 30 of the Christmases that I lived through, this & the scarf set my mama crocheted for me, are my most memorable & loved gifts.
As I grew older I realized that my dad put his heart into building those desks for us, which made me love them even more.
He also put his heart on the line.
Being creative, no matter the medium, & giving our gifts to anyone &/or the world, is vulnerable.
There was a chance that we could have shrugged those desks off, all his hard work. Even though we were so young, I'm sure it would have stung a little had that happened.
I'm learning though, if you really put your heart in it & out there, no matter what it or the outcome is, you will grow & learn from it.
If you go in big, you usually get big back – & if you don't, settle into why that's not okay with you & reshape it.
Your heart, ultimately, no matter how much you put it into things or people or situations or relationships, is always in your own hands.
So, on a lighter note, I put together a roundup of sweet DIY gifts that you can put your heart into this holiday, if you wish!
DIY Heart Sweatshirt
DIY Dreamcatchers
DIY Felt Flower Crown Headband
DIY Sweater Elbow Patches
DIY Typographic String Art
DIY Wrap Bracelet
DIY Tights
DIY Birdie Fringe Purse
DIY Doily Lamp
DIY Bow Garland
DIY Ruffle Shirt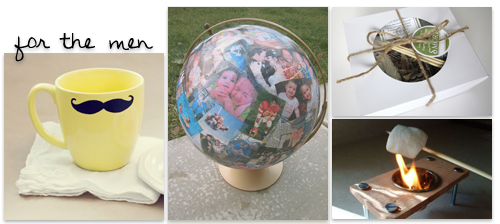 DIY Mustache Mug
DIY Photo Globe
DIY S'mores Kit
DIY Mini S'mores Grill
Super-Duper Free Printable Holiday Gift Tag Roundup
Christmas Tea Bag Gift Tags
Festive Bow Toppers
I hope this inspires you to create your own memorable Christmas for you & your loved ones. Maybe if you have bigger little ones you can recruit them to help & instill in them the memory of a joyful & full-of-heart handmade Christmas.
Love,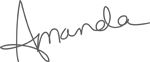 PS A few of my favorite thoughtful & handmade gifts posts that I've shared on Kind Over Matter are : Gifts for the Group, the Surprise Ball & a Printable Affirmation Kit! Enjoy!
---